Info & Reviews about:
Outdoor Gear, Cycle Gear, Snowboards and more!
Welcome to Crank IT – your one-stop source for info and reviews about Outdoor Sports Equipment and Gear.  If you're looking to buy a Mountain Bike that can cut through any terrain and thrill you with heart-thumping delight, we have plenty.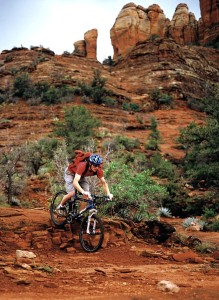 Our selection of BMX and mountain bikes features the toughest frames, smoothest suspension and quickest Shimano shifting for the ultimate in control as you thread your way down mountain paths and bounce over loose rock. Imagine your calf muscles locked against a titanium frame, and your hands twisting the handlebars to avoid a sudden drop off. BMX tracks and mountain terrain gets into the blood of outdoor adventurers, inspiring the purchase of gear that not only performs well but excels in that performance, leaving the pack behind as you soar through the air while performing a crazy trick.
Snowboards and skis possess that same ability to make the heart skip a beat, speeding the blood and sending you up into the mountains with the car loaded for fun, but remember, all of these amazing sporting activities have to be tempered by selecting outdoor clothing and footwear designed to keep in the warmth and keep out the winter chill.
Helmets protect the head from rocky outcroppings while goggles defend the eyes from the glare reflected of off virgin sheets of snow and ice.
Even the best outdoor enthusiasts know the value of choosing a set of polarized goggles to protect eyes from harsh mountain sunlight. They look for footwear capable of finding a sure grip on any mountain slope, for winter coats that are immune to any kind of weather and for gloves to keep fingers warm and fast as you navigate a popular ski slope. Even the selection of a backpack can be critical for being prepared with water and survival items for climbing or descending tree-spotted mountains where human contact can become sparse.
Carve out new runs on fresh powder and feel the spray of wet snow shocking you awake early in the morning, all while wearing our products, items designed to enhance the outdoor experience. You'll be in the zone, caught in the moment, whether you're a blur descending a snowy slope, or skimming over the waves of a sunny beach on a
stylishly designed wakeboard, the board cut to allow you to pop up and generate powerful bursts of speed, swinging through the water in graceful arcs.
You may be a weekend adventurer set to explore a new stretch of rocky desert on a mountain bike, or simply addicted to your snowboard, but you'll only get the sharpest moves and edgiest urban gear from Crank It, an Outdoor Sports Equipment selection of scorching fast, tough mountain and BMX bikes, skis and snowboards, wakeboards
and water equipment. All of the gear is designed for speed freaks and thrill demons, for action junkies and sportsmen looking for the ultimate in all-terrain, outdoor action. Every model is filled with technical innovations designed to enhance the prowess of the rider while providing the latest in safety. Speed and hi-tech equipment sold at an affordable price is our promise to our shoppers, providing awesome sports gear and top of the line equipment. Browse unlimited choices. Ask our friendly and knowledgeable customer service any questions before making your purchase and beginning your adventure.
The History of Crank-It:
Back in 2002 www.crank-it.com was launched to introduce the Mountain Quad – The Ultimate Off Road Machine
The concept: For the first time you could actually have both – true off road capability AND a comfortable ride in one machine. Whether bombing down fire roads at 30+ MPH or cruising down the local bike path, the Mountain Quad by Crank-It, was the definitive Sport Utility Cycle that met the expectations of the most demanding riders. Loaded with such features as 4-wheel full suspension, hydraulic disc brakes, completely sealed 14 speed transmission, carbon fiber seat and heat treated aluminum frame, the 58lb Mountain Quad represented the latest in available technology. So if you wanted the ultimate off road machine the Mountain Quad was your answer. Period.
Crank It – Outdoor Gear
8721 Santa Monica Boulevard
Los Angeles,
CA
90069-4507
United States
310-846-8283
Up to Date Statistics (2017) about search terms used to locate our website: sporting goods, crank-it mountain quad,crank it,crank it cycles,mountain bikes direct,definitive bmx,crankit,gear ring,pixie mfc,crank,adult bmx bikes,snowboards,se bmx,adult bmx bike
Save
Save
Save
Save
Save
Save
Save