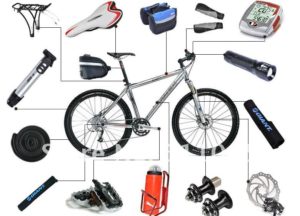 The seasons are changing, and the beautiful weather offers the perfect excuse to go for a bike ride. Whether you're taking a few turns around the park, or you're suiting up for a longer ride, below are some cycling accessories and apparel that will make your trip much more comfortable.
A comfortable, sleek helmet: You were always told to wear a bike helmet as a child, and you should still wear one as an adult. We recommend the Xar helmet from Giro, which retails for just over $100 and comes with 17 vents and antibacterial padding.
Rearview mirror: You can buy rearview mirrors that attach to bike handlebars or a helmet, and which offer a good view of what's happening behind you. For instance, the MTB Bar-end Mountain Bike Mirror ($13) mounts on the bars and will let you see forward and backward simultaneously.
Riding gloves: If you ride a lot, you probably know that blisters are a common occurrence. Protect your hands with the Izumi Selects from Pearl, which usually sell for less than $25 and come in a variety of colors.
An emergency tire patch kit: It happens to every rider eventually–a flat tire. Getting a flat is no reason to panic, though; with a repair kit like the VP1 from Park Tool ($3), you can quickly fix your bike tire and get back on the road.
A riding jersey: Wearing a plain t-shirt will make you look like a rookie, and it'll also leave you drowning in sweat. By choosing a riding jersey made of moisture wicking fabric (such as the Ultra Short Sleeve from Performance), you'll look the part, and you'll get durability along with a contoured fit.
An insulated water container: Not every bike path has water stations, so you'll have to provide your own hydration source. The Podium Big Chill bottle from Camelback ($13) helps keep your water cold and within arm's reach at all times.
A comfortable bike seat: Most original equipment bike seats are uncomfortable and not really suited to longer rides. If you don't want your seat to leave you with a sore rear end, choose a gel-padded seat such as one from DerriAir ($45).
Tire pump: Every cyclist should be ready to fix a flat, but that doesn't mean carrying an unreliable, bulky air pump. The Pocket Rocket from Topeak is an ideal option and sells for less than $22.
A speedometer: Seeing how far you went (and how fast you got there) can provide the little push you need to keep riding. There are plenty of smartphone apps that can track speed, pace and distance, but a clip-on speedo such as the Protege 9.0 from Planet Bike ($35) also offers speed comparison, trip distance and ride time, with the added benefit of being waterproof.
Bicycling is a great way to get some fresh air and exercise, and it's also an eco-friendly means of transportation. To make your next ride more comfortable, we recommend trying one or more of the fashions and/or accessories on this list. You'll be glad you did!